Limited premium advertising slots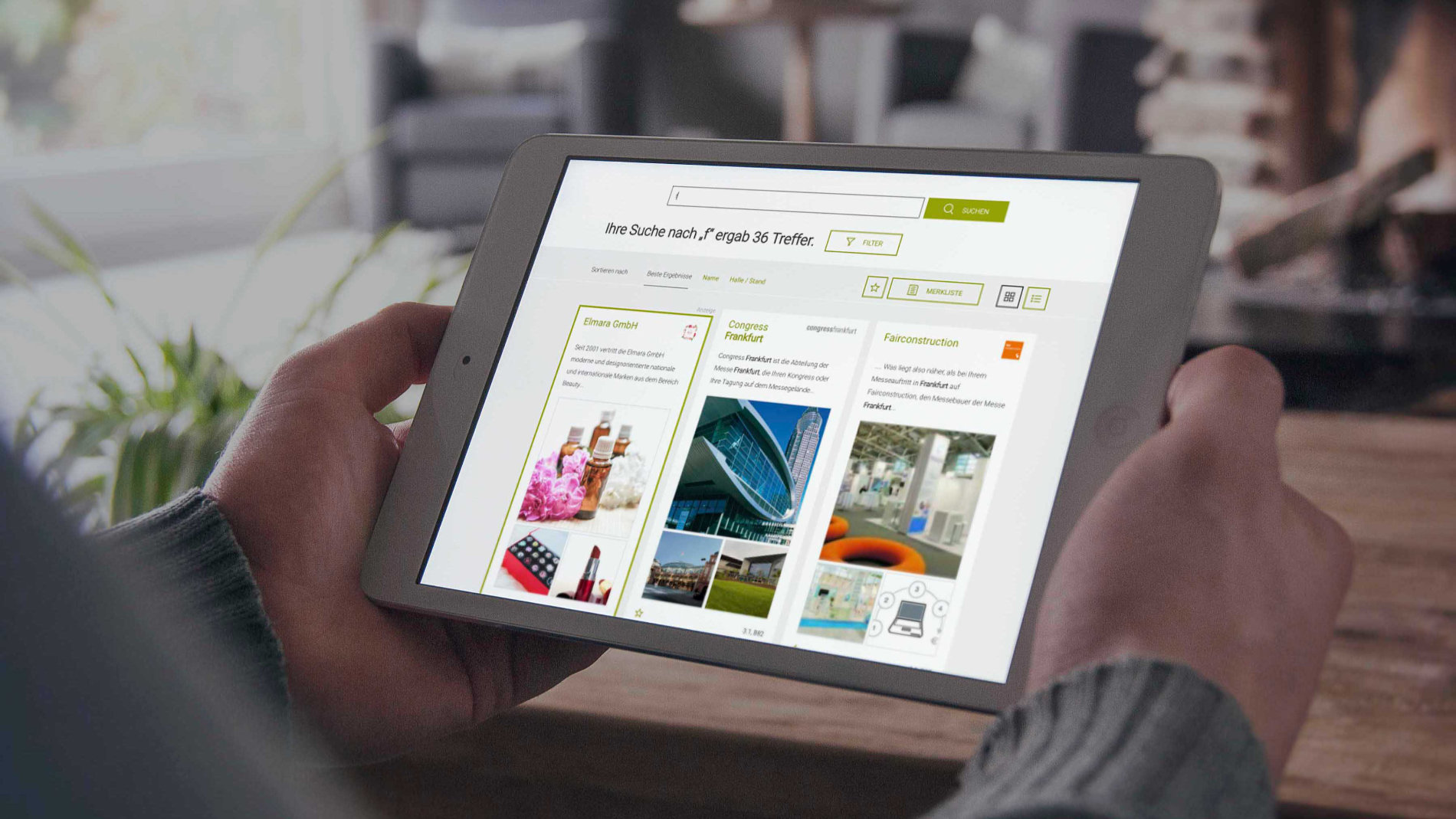 Native marketing for your exhibitor profile: Burst out of the pack and leave your competitors trailing in your wake. Seize this opportunity of advertising your company and its products prominently in one of our limited premium advertising slots. The following limited premium advertising slots are available to you:
Top of Search
Top of Search makes you number one: whether on the website, the Digital Extension, in the Navigator app, or in the interactive ground plan, provided the information in your exhibitor profile features among the search results, your company will be the first one listed. This way you are directly linked to the matching search terms and benefit from up to 80% more hits on your company profile.
Top of Search can be booked by a maximum of ten customers. Act now and make sure you're one of them! To find out more about Top of Search, watch the video.
Top of Product Group
Become the leader in your product group: with Top of Product Group, your exhibitor profile will always appear first in the list of search results for your product group. You benefit from up to 50% more hits on your exhibitor profile.
This product is displayed on all platforms of Messe Frankfurt, and it can be booked for all available product groups. Only three Top of Product Group listings are offered per product group. So it pays to be quick! To find out more about Top of Product Group, watch the video.
Front Page Box
Stand out on the home page: with the exclusive Front Page Box, your brand or product will be highlighted on the home page of the trade fair and linked to your exhibitor profile. With an editorial look (native advertising), you can achieve even greater prominence and convince your target group that you are the right choice. To find out more about Front Page Box, watch the video.
Matching Banner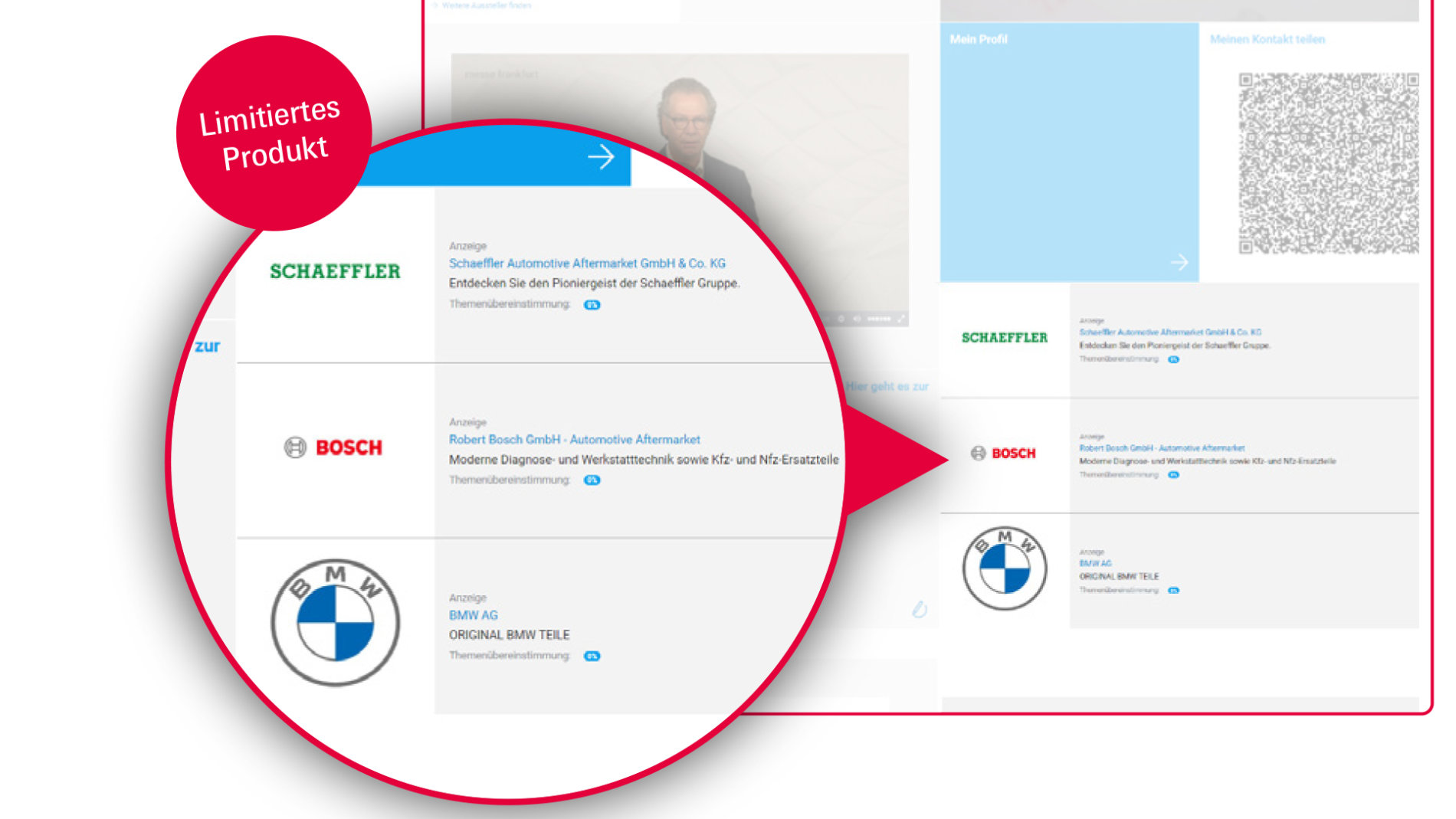 By comparing exhibitor and visitor profiles on the Digital Extension, we discover for you exactly which visitors are interested in your products and services. This makes reliable matchmaking possible.
Big Picture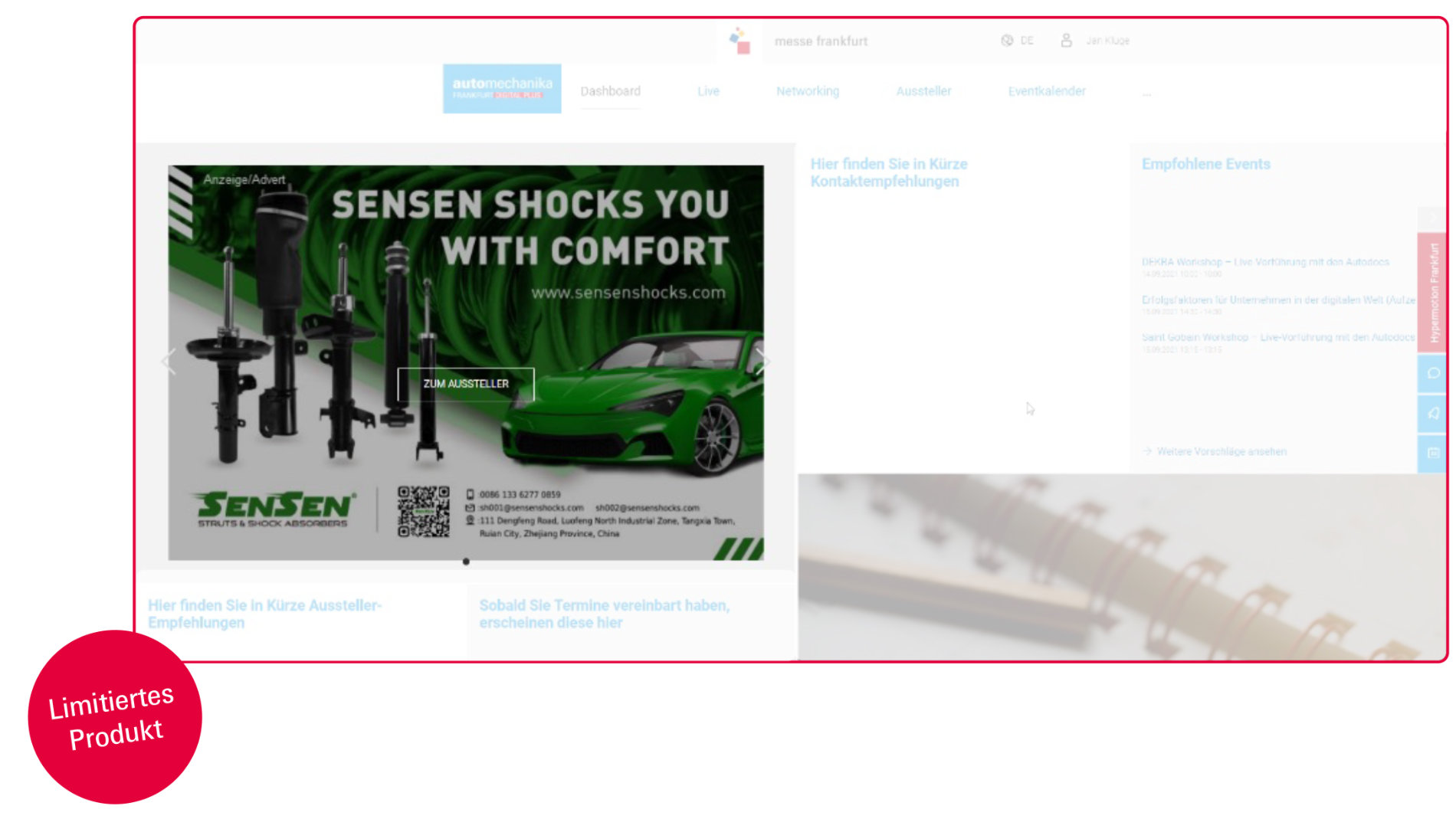 The Big Picture places you right up front, on the home page of the Digital Extension.
This unique slot can be reserved by one customer only!
Limited Advantage Packages for unlimited success
A particularly efficient way of booking our advertising products is through our economical Advantage Packages. These not only allow you to generate synergies from the professional interaction of our advertising products but also to benefit from attractive package prices.
Our best-selling packages:
Contact
Do you have any questions? We will be happy to advise you as to which advertising are best suited to you.